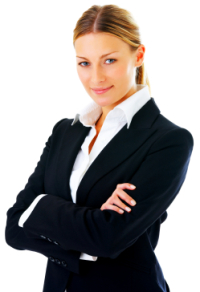 At a web startup, t-shirts and jeans is often the norm. It's accepted you work around the clock so if you want to wear pajamas if no clients are coming into the office, then that might be ok on rare occasions. But as your company grows, so does the expectation of professionalism, starting with how you dress.
As others are hired at later stages in the company, this becomes further clear. T-shirts are replaced with button downs. Jeans have transformed into slacks. And, if you're still wearing what you wore at the beginning of the company, you no longer fit in.
A 2001 study conducted by consumer research firm Yankelovich Partners, Inc., titled "Work Your Image: The Importance of Appearance on the Job" reported that 76% of respondents believe that a woman's appearance affects whether she is taken seriously, asked to participate in meetings with upper management or is well regarded by colleagues and supervisors. Sixty four percent believe that her appearance will lead to consideration for raises or promotion.
It also doesn't help that I look young. I had a frank conversation with my boss the other day about age and how I believe people see me as younger than others in the company my age and that's hurting my opportunities for advancement. He then said that he didn't think that was true, only to a minute later guess that my male colleague was 31 while I'm 29 (we're both the same age and I actually have one more year of work experience than he does due to graduating college a year earlier.) Not that the specific comparison matters (the specific individual is a great employee and deserves all the praise, advancement and salary he gets) but it does beg the question of how I can make myself appear older and more mature to earn respect out of others in the office, short of using Elmer's Glue to temporarily form wrinkles in my face. (Who does that?)
I'm struggling with this part, but I think in my transition from startup killer bee to an executive queen, I need to get the costume down, from head to toe. In this yet-to-be-determined-length series, I will document my attempted transformation from productive zhlub to polished professional.
Blow Out: Hair


Most of the executives as my company are males, so of course their short hair takes less time to make perfect. The women have been hired as senior managers in the company do have longer hair, but they clearly spend a lot of time primping before leaving home in the morning to look flawless.
I'm not the best at mornings, so I've struggled with my hair. I'm considering cutting it short again to help reduce the time it takes to style it (and dry it) but I really like my long hair. It actually makes me feel pretty when I've taken the time to blow it out appropriately. The other issue is that my hair tends to be greasy. I've asked some other woman how they get their hair so nice and they say that they don't wash it often – I wash my hair everyday because if I don't it looks disgusting. So I need to make sure I have time to wash and dry my hair every morning if I want to look good. Or I should just cut it all off, but I'm not sure I'm ready yet to do the female executive boy look. Sheryl Sandberg and Marisa Meyer give me hope that this isn't a requirement.
Painting the Face: Makeup


While I seem to spend a lot on makeup, I don't enjoy spending time applying it in the morning. This is one area where I'm torn because I know I look a lot better with makeup but clearly the executive men do not need to deal with it, even if they have giant zits that they should cover (waiting for them to invent official mankeup.) Sure, a quick swoosh of BB Cream to even out my skin tone and some lip gloss or makeup doesn't take that long, but the principal of it bugs me. Besides, wear too much makeup and it could come off wrong as well. Mascara drives me nuts if I wear it to work, but maybe I should suck it up and find a light professional makeup style that I can stick to on a daily basis. Another item to address here that men don't have to do is ensure that eyebrows are plucked, waxed, or threaded. Men do shave their beards so I'll call this one a toss up in grooming time.
What to Wear: Outfit(s)


I'm really stuck on this one. I went out and bought some suits last year (a few nice Theory jackets as well) and thought I'd wear them, but dry cleaning is such a pain and I end up wearing my machine wash clothes. I do have an entire hamper filled with dry clean only clothes that have gone unworn for a while now because I'm too lazy (/busy) to take them to the cleaners. The men at the office always look so put together in jeans, a button-down shirt and a nice jacket, which I could copy, but that doesn't feel very me. I enjoy fashion and style and would love to be looked at for my excellent and unique taste in clothes, but to get that right I'd probably need to buy a whole new wardrobe, which I'm not about to do, at least not until I lose 30 more pounds.
So in the meantime, I must bring my dry clean clothes to the dry cleaner and figure out how to get more wear out of them in between washes (ie stop spilling food on myself.) I'm really self conscious about my chest (I'm only a 36C but I just don't like showing cleavage, yet high-collared shirts make me feel too covered up) as well as my arms (chubby chub chub, or as my bf calls them endearingly, my "wings") so it's a challenge to find clothes that look right on me. I'm rather curvy so when I wear a dress I just feel too va-va-voom. I don't want to come off that way either. So I'm not sure what to wear. I do like feeling sexy but that just isn't appropriate around the office. I don't like showing my legs either. All the while I have fantasies of dressing like the women on Sex and the City. Maybe if I lived and worked in NYC it would make sense, as people are more fashionable there, but I don't need to waste money on fashion beyond what will make me look not like a little girl.
Covering the Feet: Shoes



What a nightmare! I love shoes but god knows I can't wear them. My feet are just shaped oddly. I haven't realized how oddly until recently. Maybe they've gotten worse over the years. They are narrow in the heal and wide in the front. Wides are generally too wide and regulars pinch my toes like no other. I can wear rounder flats and do – but those just make me feel short at 5'3 and still unprofessional. While heals make me feel too sexy (see above) I also feel like I can take over the world when I'm lifted up a bit. But they make my ass shake too much no matter what I wear, and I don't need any of my colleagues to stare. I don't feel attractive but apparently there is a certain type of man who is attracted to me (let's just say they are not 'breast men' because thisbaby got back) and I'm not comfortable with being the Joan Harris of the office, even if the reference is only applicable when I'm walking away.
Jewelry & Clothing Accessories


Looking professional and polished isn't just about wearing the right outfit and having the perfectly straightened coif. Details matter. I've never really figured out jewelry or accessories. Men wear fancy watches as their statement piece, but what do women wear? I'm starting to think a nice watch would be a good investment given I'm not the best with time to begin with (and yes, a constant reminder on my wrist would be better than having to pull a cellphone out of my pocket to check.) Beyond that, though, it seems there should be some investment in a collection of extras: scarves, earrings, necklaces, etc. I always feel silly in a scarf unless i'm wearing one in cold weather, but they do make an outfit look more put together when worn correctly. I've eyed some expensive discounted scarves at Nordstrom Rack recently, but I can't figure out if I'd actually wear them without laughing at myself in the mirror. One accessory that I do enjoy wearing is glasses — my new pair is going to be delivered soon and they are definitely look like glasses a professional (and/or librarian) would wear.
Laptop Bag & Purse

Right now I carry a small backpack for my laptop and a reasonably nice leather purse that it took me years to decide on. The purse is professional looking and for now it is my standby. The backpack, not so much. I could invest in a nice leather-ish laptop bag/suitcase to look more put together, but that can be expensive. I don't need a Birkin, but there's something about carrying a really nice bag that makes you feel polished, like you've made it.
(Visited 448 times, 1 visits today)
Related Posts: